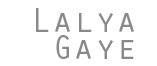 The Space – 'Maliennes' Proposal
Artist: Lalya Gaye, Newcastle upon Tyne, England, UK
Email: lalya@attayaprojects.com
Project Description
Mali was a beacon of peace and democracy in West Africa until it rapidly descended into chaos with a civil war in 2012. Following the events by watching the news, reading newspapers online and talking on the phone with friends and relatives, I became increasingly aware of the lack of first-hand accounts in the media – both locally and internationally – of what the Malian population itself was experiencing in their everyday life: what their opinions were, their fears, their angst, their losses, but also their hopes, their resilience and how they got on with life in the midst of the conflict. Many stories of Malian women in particular, remain largely unheard.
With this piece, I aim to foreground voices of Malian women by building a sound installation where visitors will hear audio narratives from these women, in a first-person perspective, as well as live ambient sounds from streets of Mali.
The installation will be a 160 cm high version of the large-sized earrings worn by my grandmother's people, which bear a strong personal significance for me as a member of its diaspora. It will allow visitors, one at a time, to immerse themselves "between the ears" of a number of Malian women, by positioning their head between the earrings and listening to binaural recordings of each woman's voice and of the country's soundscape.
Touching one of the earrings will enable visitors unacquainted with Malian languages to hear an overlaid interpretation in English. Touching the other earring will switch to a live audio stream from the capital and/or the North of the country where most of the conflict took place.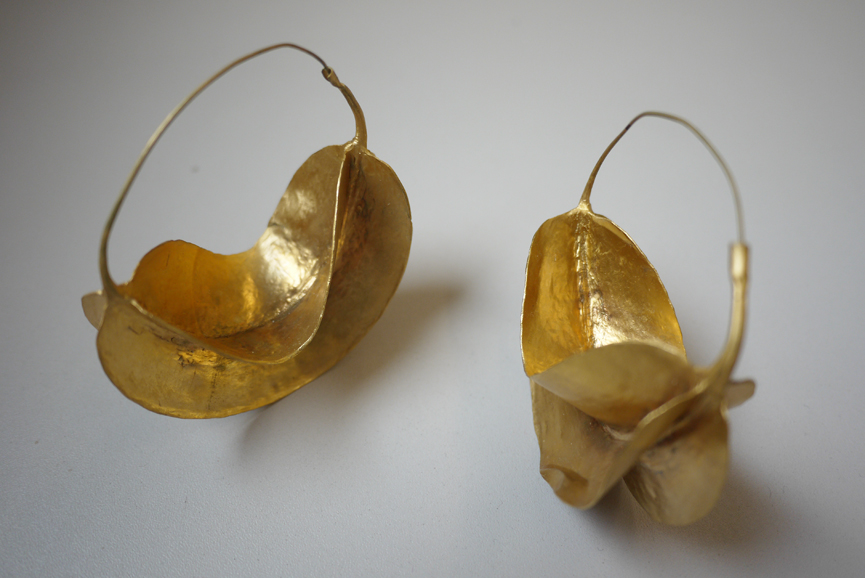 Traditional Fulani earrings, with measurements 8 cm x 8 cm
A streaming computer, a media-player and a micro-controller will be connected to the installation through red wires and audio cables resembling red threads sometimes used to bind this type of earrings. Audio will be transmitted to the visitor using acoustic actuators placed on the installation close to where one's head will be positioned. These will turn the sheet metal into a resonating "speaker" surface. The sound will be binaural, therefore immersive, and just loud enough for people in the middle of it to hear it properly, making the experience intimate and for the most part individual. Capacitive sensing will be used to switch between the voices playback modes and the ambient sounds stream mode. A cheap computer operated by a local contact in Mali will stream from location in Bamako.
Dakar-based digital media art centre Kër Thiossane and African art organisation La Companiya (of which Susana Moliner and Marta Vallejo Herrando are behind the blog Ma-liens that aims to bring forward voices from and about Mali) will help me reach out to women of each of the main ethnic groups of Mali and help me gather their recordings. I will also record testimonies from Malian women in Britain with the help of BME women's organisations in Newcastle. Once the voices recorded, interpretation will be hired. I will edit the audio and build the physical installation myself.
Artist Bio
Lalya Gaye is a digital media artist and interaction designer based in Newcastle upon Tyne, with background in engineering and interaction design. She builds interactive art installations with light, sound, steel, everyday objects and electronics, and has worked and exhibited internationally.
She is the founder and director of Attaya Projects, an international digital media arts and design practice for interdisciplinary collaborations at the interface between the physical and the digital.
In 2014, Lalya has partnered with Thinking Digital Arts, exhibits work DLI Art Gallery in Durham, provides consulting for European projects and is involved with various festivals and community workshops.
www.lalyagaye.com
www.attayaprojects.com